In 1906, Juan Correa founded the shipping agency that began to transport crude from the port of Batun in the Black Sea to the North of Spain. Today, the fourth generation of the family is still working in the shipping business.
During the First World War, the firm continued with bulk transport and ¡ron materials, despite the constant risks caused by the blockade.
In the 1940s, the company traffic focused on the transport of phosphates and coal. Between 1965 and 1985, as ship owners they built four carriers with capacities from 3,000 to 6,000 tons.
The company is well established in the ports of Bilbao and Algeciras, and has agencies in Tarragona, Barcelona, Castellón, Cartagena, Huelva, La Coruña, Gijón, Santander and the Canary Islands.
Its activity covers ship agency, customs agency, loading and unloading, storage and freighting, etc., and it is currently highly specialised in tanker agencis.
CORREA SPAIN is proud of the solid prestige it has achieved in more than a century working in maritime business, with solvency, certified professionalism and seriousness in protecting the interests of all its customers.


100 years of history in images: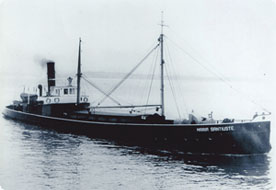 María Santiuste - Built at Bilbao in 1912.
Gt 399. DWT 520.
Lenght 46,20 meters. Bearm 8,28 meters.